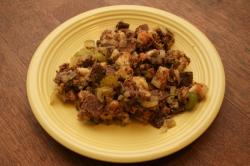 We recently found ourselves with a lot of stale bread. What does one do with stale bread? Make stuffing! We weren't about to actually stuff anything (besides our bellies), so I just made it on the stove in a pan. Clare came up with the idea to make it, and with the brilliant idea of adding some vegetarian sausage crumbles. We were very happy to discover that the grocery store right by our new house in Colorado carries Morningstar sausage crumbles. We discovered them several years ago in Michigan, but they have been very difficult to find lately, especially while we were living in Indiana.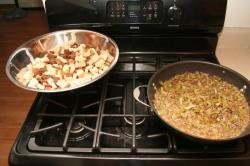 The stuffing was pretty simple to make. I cut up all our stale bread, which included some white bread, some pumpernickel, and some homemade bread from my aunt. Then I let it sit out in a large bowl for a day to dry out. Last night I sautéed a large onion and about 10 celery stalks, added a bunch of italian seasonings, some white pepper, and some fennel seed, then finally added about 2 cups of vegetable stock and the sausage crumbles. Once the mixture was boiling, I turned off the stove, then stirred in the bread, and put the top on the pan and let it sit for about five minutes.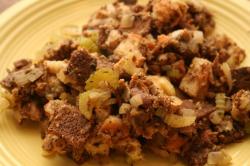 It turned out to be very flavorful, and fit all the current requirements for our taste buds – not garlicky or spicy for Clare, and flavorful (for both of us). It also marks my 3rd new recipe of the year. I don't anticipate making it too often, since I don't often find myself with that much stale bread, but it is good should that happen.